Travel
What Hiking Mount Batur in Bali Taught Me About the Journey of Life
The day I hiked Mount Batur was the best day I had in Bali.
Standing at 5,633 feet, Batur is an active volcano in Batur Village with its last eruption happening in 2000. A few of us at the yoga retreat agreed the night before the hike that trekking up a volcano to watch the sunrise would be an epic way to end our time in Bali together. In order to catch the sunrise, we had to wake up and be ready by two in the morning so our driver could pick us up and transport us to the base of Batur.
Waking up that early when you're intoxicated with jet lag? No problem. Each night leading up to that day, I was in bed by eight in the evening and wide awake just four hours later. So this was the perfect activity. The only thing required for the hike was long pants, a camera and 500,000 rupiah (about 40 U.S. dollars). The guides would provide everything else we'd need.
The hike up would take about two hours depending on how physically fit everyone was in our group. But we're yogis. If we can handle chatarunga pushups and chair pose, I'd say we could handle walking up a mountain.
When we arrived to Batur, we met our three enthusiastic tour guides and were each given a flashlight so we could navigate our way up in the dark.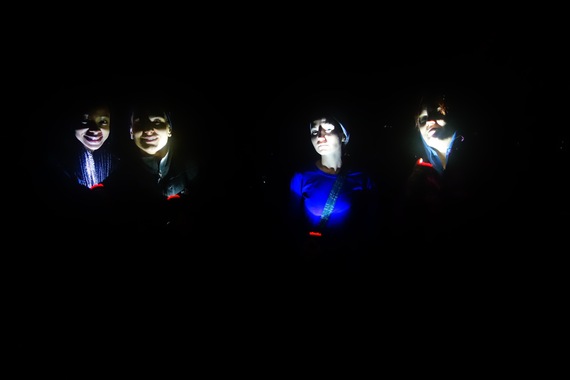 At about 3am, the hike was on and we were in full stride up the volcano. There were several other groups participating in the trek also and as I looked ahead, I could see a string of flashlights seemingly marching up Batur. Although the guides said the activity level for hiking the mountain was moderate, there were times when it would get challenging. We went from flat rocky terrain to steep sandy inclines and back again. I could definitely feel the burn in my legs and glutes as we stayed low when going up inclines to prevent from slipping.
Our motto was "low and slow make yo' booty grow. High and fast, you fall on yo' ass." But when you think about it, it's really true.
After about two and a half hours, plenty of rest stops and moments of exhaustion, we finally reached the top and right in time to see the sun begin peeking through the sky. It was absolutely breathtaking. It was pretty chilly at the summit and we all ordered rounds of coffee and tea to keep ourselves warm while we watched the sunrise and took photos to capture the moment.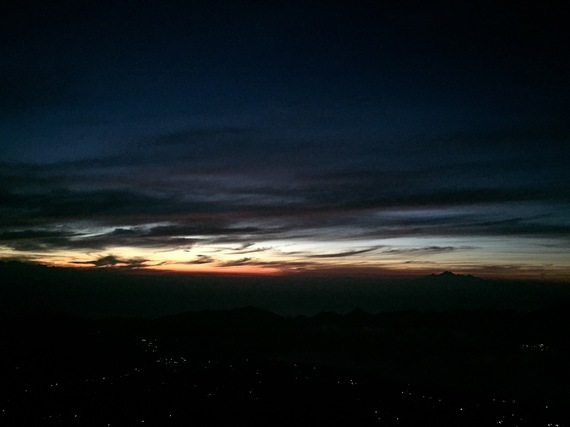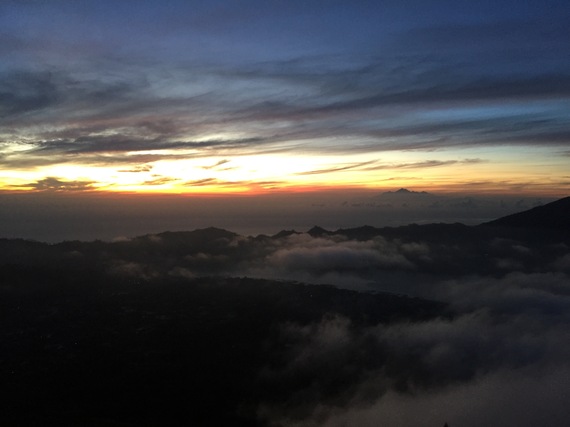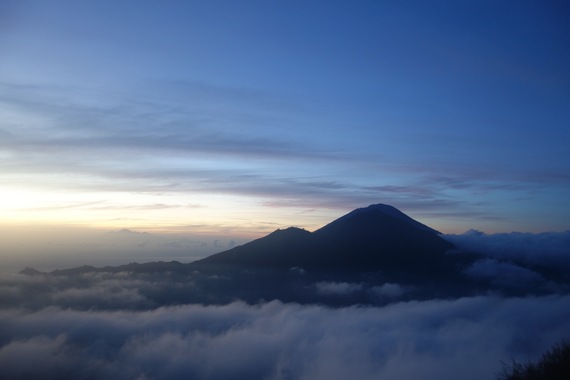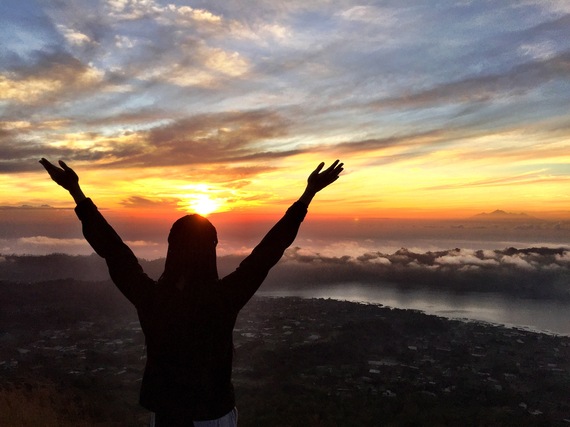 We spent a while at the top before making our way back down the mountain which proved to be more difficult than hiking up. But with all of our singing, interesting conversations and pit stops along the way, it went by pretty fast.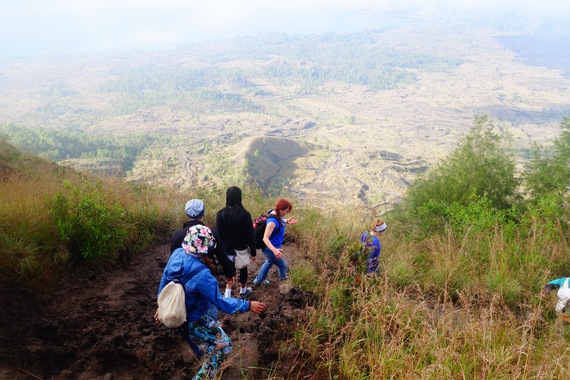 A note on the journey
Before we started hiking Mount Batur, we talked about how the journey up the volcano is synonymous with our individual journeys through life. We talked about how the challenges we face, the endurance, strength and character we build on our way to the top is more significant than reaching any peak or amount of success.
As we climb the mountains of life, we often look ahead exhausted by how much further in front of us others are or seem to be. We get down on ourselves because we aren't there too and we start to feel as if our current position isn't good enough and that we can do so much better. Sometimes we feel we'll never make it. We often forget while we are climbing to not only look to the future, but to remember to glance back and take note of how far we've come. We often forget to appreciate our current position.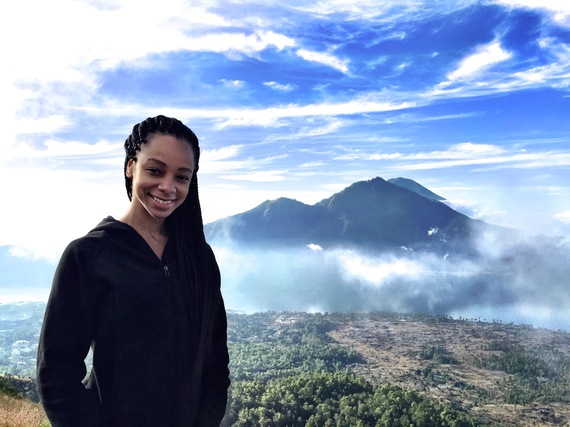 Hiking Mount Batur was so much more than a physical feat.
The concept about the journey up made me think about my own life's journey and how hard I've been on myself lately. Instead of being gentler, I often stress about how much further I have to go or the never-ending task list I've got to complete if I want to reach a certain level of success. I do all of this without taking the time to appreciate just how far I've come in the past year alone or even in the past three months.
Why is it that everyone except us notices and appreciates how far we've come? Why is it so difficult to see our own accomplishments and appreciate the moment without constantly feeling the need to do more, have more and be more? When is it okay to take a break, breath and just enjoy the present as it is?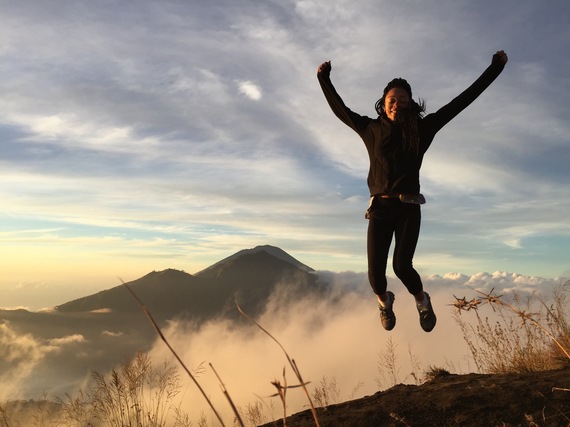 Life itself is a journey.
As long as you're living, you never really reach a final destination because each day brings new obstacles to overcome. Climbing Mount Batur was both a reminder for me to do a self-check on showing myself more grace as I move throughout life whether I'm physically climbing a mountain or climbing over another one of life's many challenges.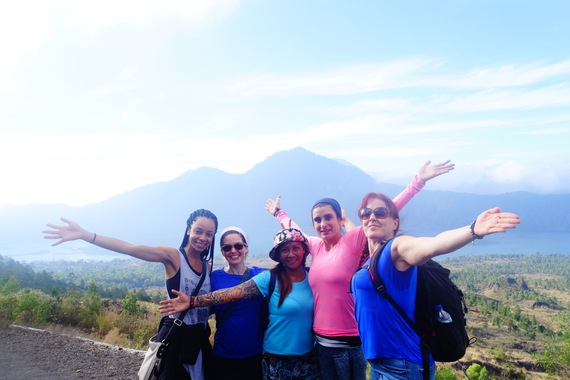 This post originally appeared on Jaimee's travel and inspirational blog, This Way North.